Kindergartens Treperka and Waldorf Semily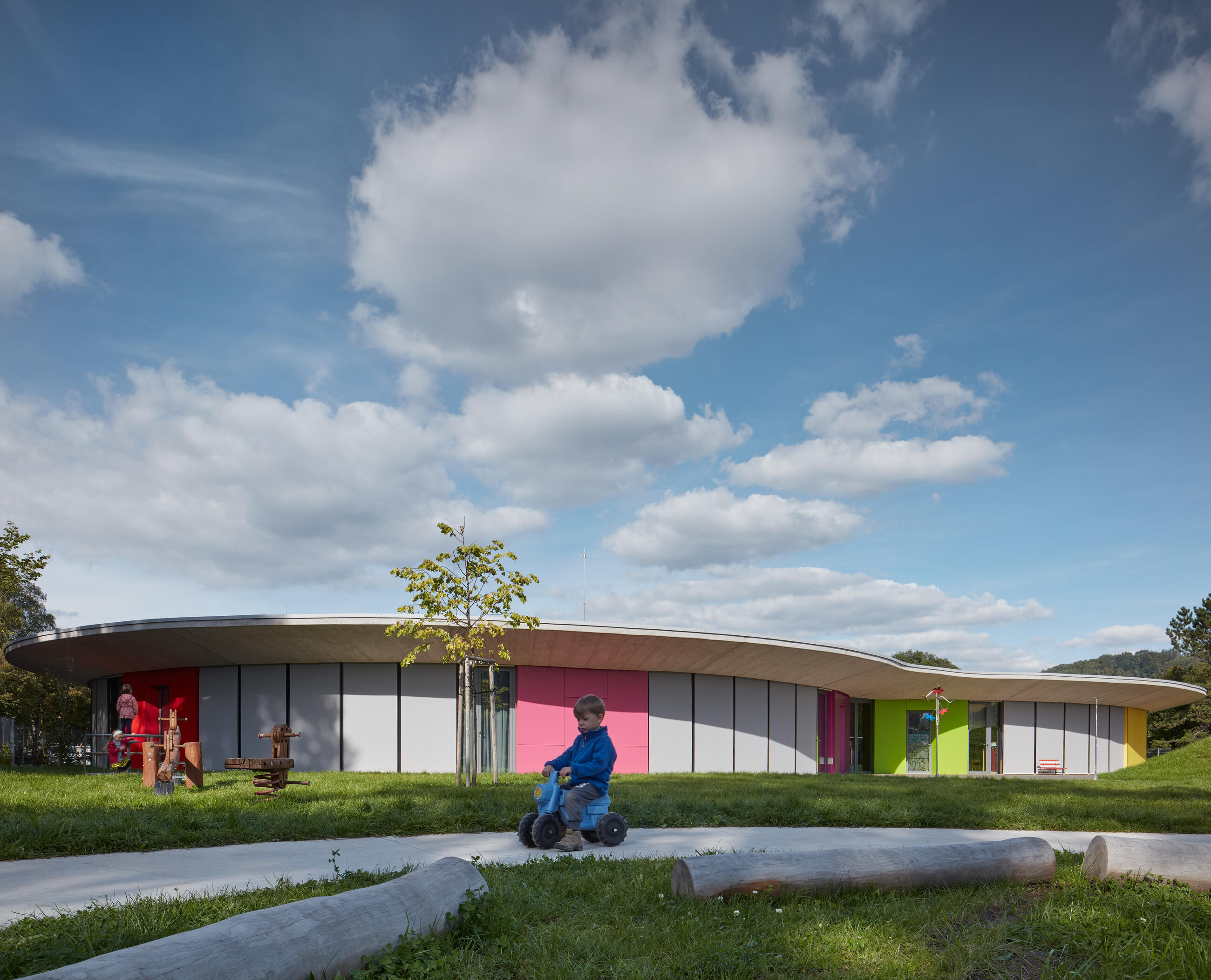 The new building designed for 110 children combines a classic municipal kindergarten and a Waldorf kindergarten in a single building located near the confluence of the Jizera and Oleška rivers on the outskirts of Semily town.

Studio
MTA
Author
Marek Topič, architect, chief designer
Website
www.marektopic.cz
Co-author
Vratislav Ansorge, architect of the interior
Design team
Michal Pokorný
Photographer
BoysPlayNice, www.boysplaynice.com
Collaborator
Investor: Town of Semily [Lena Mlejnková, Vladimír Bělonohý, Jana Dvořáková]
Chief engineer, Project coordination: m3m [Michal Pokorný, Dita Zlámalová, Martin Uher, Jan Roubal]
Statics: POHL statika [Jan Pohl, Martin Víšek]
MEP: TechOrg [Ondřej Hlaváček, Jiří Beran, Jakub Hažmuka]
Sanitary installations: Vodopro [Michal Mošnička, Pavel Jakubů]
Electrical installations: Predrag Laketič
Garden landscaping: Terra Florida [Lucie Vogelová, Lada Veselá]
Transport engineer: Dopravně inženýrská kancelář [Jan Kašpar]
Fire safety: Zdeňka Kubištová, Lucie Soukeníková
Kitchen technology: Oldřich Krejčí
Acoustics: Akustika Praha [Tomáš Rozsíval]
Photometric study: Dalea [Martin Stárka]
3D thermal analysis: Porsenna [Michal Čejka]
Signage and wayfinding system: Department of Graphic Design and Visual Communication, Academy of Arts, Architecture and Design in Prague [David Frank Tenora, Kateřina Pravdová, David Novák, Oskar Koutný, Ana Luisa Hinojosa Torres, Sára Svobodová-Míková, Richard Jaroš, Petr Krejzek]
Engineering: Petra Neumannová
Building contractors: BAK stavební společnost [Robert Buďárek, Tomáš Papoušek, Tomáš Martinec], MBQ [Pavel Seeman, Petr Menšík, Filip Balatka, Dušan Mráz]
Technical supervision of the investor: Jan Hájek, Emanuel Mušek
Log in to view and download full content
Do not have your account? Register to LINKA for media or architecture / architect, designer, investor, contractor / and get access to LINKA's media services.
Request access